The Charlie Andrew memorial seat

A memorial seat on Levenside has been dedicated to the memory of Charlie Andrew.
Charlie was a P.E teacher at Stokesley School for 32 years, and he made many friends in the sporting world. His sporting interests included climbing, skiing, canoeing, windsurfing, and sailing plus football and hockey. But his heart was mainly in the cricket scene and he was, for 30 years, a member of the Stokesley cricket team and was chairman from 2004 to 2007.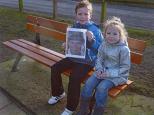 Charlie died in 2010 and left £1000 to the Stokesley Pride in our Town Association for the upkeep of the flower tubs around the Cleveland Avenue area where he lived. Such a magnificent gesture deserved a response and SPIOTA decided to place a seat in his memory on the Levenside pathway.

On the photograph to the left, Charlie's next door neighbour, Karl Watson with his son George and daughter Hannah read the dedication on the seat to the memory of the man who made so many friends, both as a well remembered teacher, and in the world of sport at which he excelled. On the photograph above, George and Hannah display a photograph of Charlie.